After over two months of driving across North America and screaming at strangers, I am back in NJ!
Calling it a "whirlwind" truly does the level of absolute chaos and joy I experienced no justice at all. I'll just say that I'm so glad there are so many amazing cuties and weirdos willing to find cathartic release with me through the power of what can perhaps only be described as synthpop grindcore rave. (We've been calling it "spazzpop for almost a decade now though, eh?)
In other news, I have a new soundtracky album of battle music, breaks, ambience, and happy hardcore over on the
bandcamp, which is perfect timing because daaang I need some work!! I'm a music teacher and gigging bassist, and some sociopath in Vancouver broke into where I was staying and smashed my fucxing bass for no reason at all. Add to that the EXTREMELY expensive car repairs I ended up with as soon as the tour ended and I'm lookin' at being stuck for a while.
It's also now possible to listen to Critters and TAFKA8LDM on Spotify! I sold out of Critters tapes and EVERY NIGHT of tour, at least one person asked me if I was gonna put Critters on Spotify.
In the meantime, I'm mixing Perfect Life & Other Stuff, a mini-album I started in 2006(!) and will be releasing on MY favorite obscure format: mini-CD
.
Okay, that's enough of me pretending to know how to URL. Bye!
TOUR DATES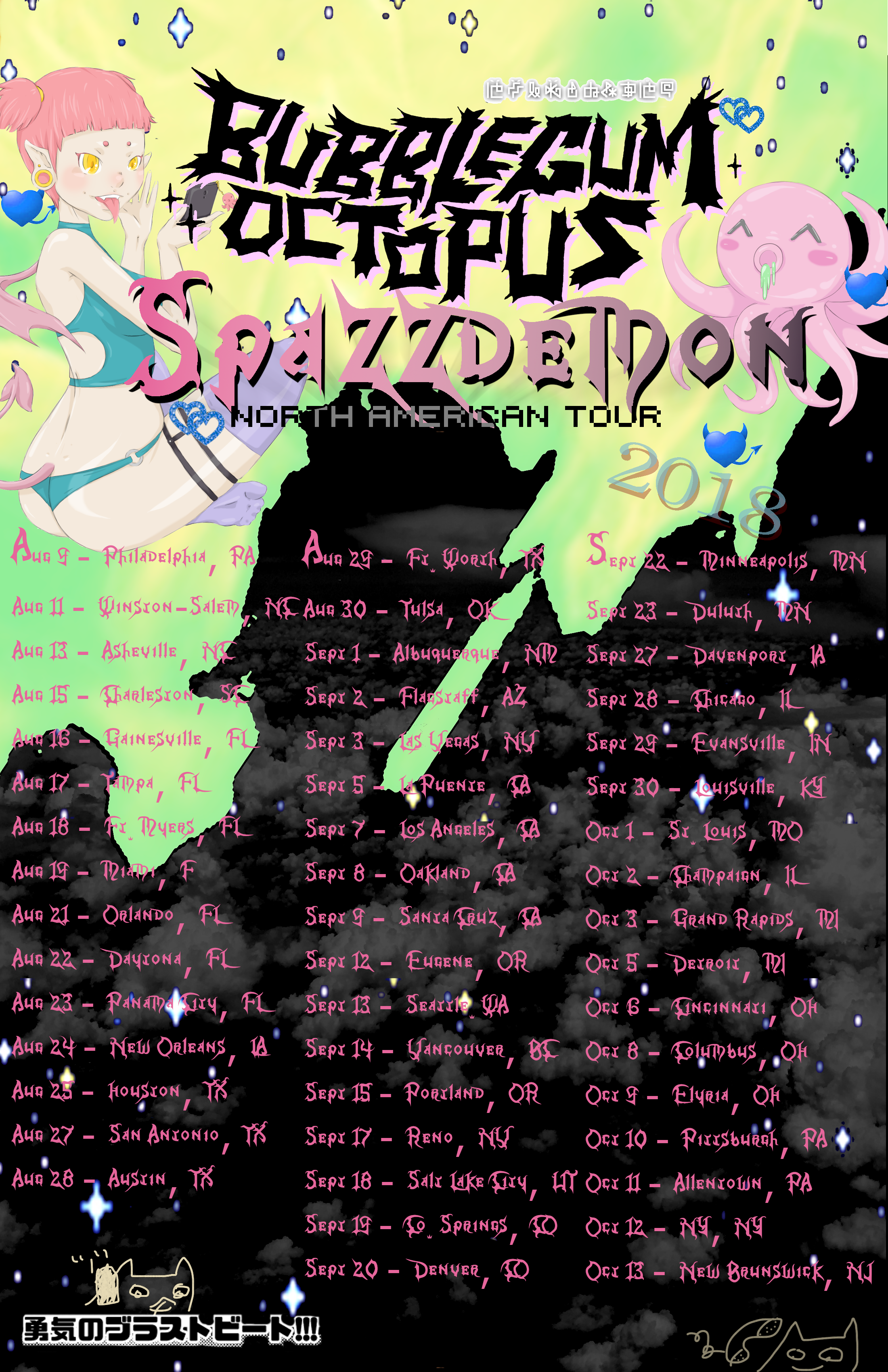 (all dates with no venue listed are too-be-announced! please check back soon!!)
August 6th - Austin, TX - House party
August 9th - Philadelphia, PA - Jessica House
August 11th - Winston-Salem, NC - Dye Pretty Salon
August 13th - Asheville, NC - Static Age
August 15th - Charleston, SC - Cory's Grilled Cheese
August 16th - Gainesville, FL - The Limin Room
August 17th - Tampta, FL - In-Between House
August 18th - Ft. Myers, FL - Beach Records
August 19th - Miami, FL - tba!
August 21st - Orlando, FL - The Geek Easy
August 22nd - Daytona, FL - Rok Bar
August 23rd - Panama City - Moon Lodge Cafe
August 24th - New Orleans, LA - Banks St Bar
August 26th - Houston, TX - Notsuoh
August 27th - San Antonio, TX - Limelight
August 28th - Austin, TX - Beerland
August 29th - Fort Worth, TX - house party
August 30th - Oklahoma City, OK
September 1st - Albuquerque, NM - The Fly Honey Warehouse
September 2nd - Flagstaff, AZ - The Monte Vista
September 3rd - Las Vegas, NV - Salt Haus
September 5th - La Puente, CA - Bridgetown DIY
September 7th - Los Angeles, CA - The Smell
September 8th - Oakland, CA - Oakland Secret
September 9th - Santa Cruz, CA
September 12th - Eugene, OR - Pizza Planet
September 13th - Seattle, WA
September 14th - Vancouver, Canada - Half Satan
September 15th - Portland, OR
September 16th - Redding, CA
September 17th - Reno, NV - warehouse show
September 18th - Salt Lake City, UT
September 20th - Denver, CO - Syntax
September 21st - Des Moines, IA
September 22nd - Minneapolis, MN
September 23rd - Duluth, MN
September 27th - Davenport, IA - Supperclub
September 28th - Chicago, IL - Dad's
September 29th - Evansville, IN - PG
September 30th - Bowling Green, KY
October 1st - St. Louis, MO
October 2nd - Champaign, IL The Independent Media Center
October 3rd - Grand Rapids, MI - Witch House
October 5th - Detroit, MI
October 6th - Cincinnati, OH - Mockbee
October 7th - ??????
October 8th - Columbus, OH - Cellar Door
October 9th - Elyria, OH - Blank Slate
October 10th - Pittsburgh, PA
October 11th - Allentown, PA - Mind Palace
October 12th - New York, NY
October 13th - New Brunswick, NJ